Mb 
Series Diesel Generator With Trailer
Rainproof Trailer-type Power Generators
Power Range: 12.5KVA-1500KVA(10KW-1200KW)
Power Factor: 0.8 Cos Phi
Frequency: 50HZ/60HZ
Speed:1500RPM/1800RPM
Voltage Range: 110v-13500v
Protection level: IP20-IP23
Warm Tip:
 The design can be customized according to your requirements and meet the various working conditions.
Rainproof Trailer Power Generator is designed and developed by our factory, which is suitable for outdoor engineering, emergency maintenance, field construction and other outdoor emergency power supply.
    Products in accordance with ISO8528-1993 and GB/T2820-1997 or GB12786-91 national standards, and has been put on the market in bulk.
Zhengdian series Rainproof Trailer Power Generator has the following features:
1. Traction: movable hook is adopted for flexible steering and convenient operation.
2. Braking: Meantime, it has a reliable hand-pull braking system to ensure the safety of driving.
3. Doors and Windows: open doors and Windows on all sides can be operated by operators and tested by equipment.
4. Carriage size: the carriage size is determined according to the size of the specification, and the operator can walk around for easy operation and maintenance.
5. Beautiful appearance: the paint is made of high polymer polyurethane, the color can be determined by the user, and the exhaust pipe is made of upper exhaust.
6. Equipped with integrated fuel tank (for 8 hours at full load)
7.Texts and decorations on the outside of the carriage can be made according to the requirements of users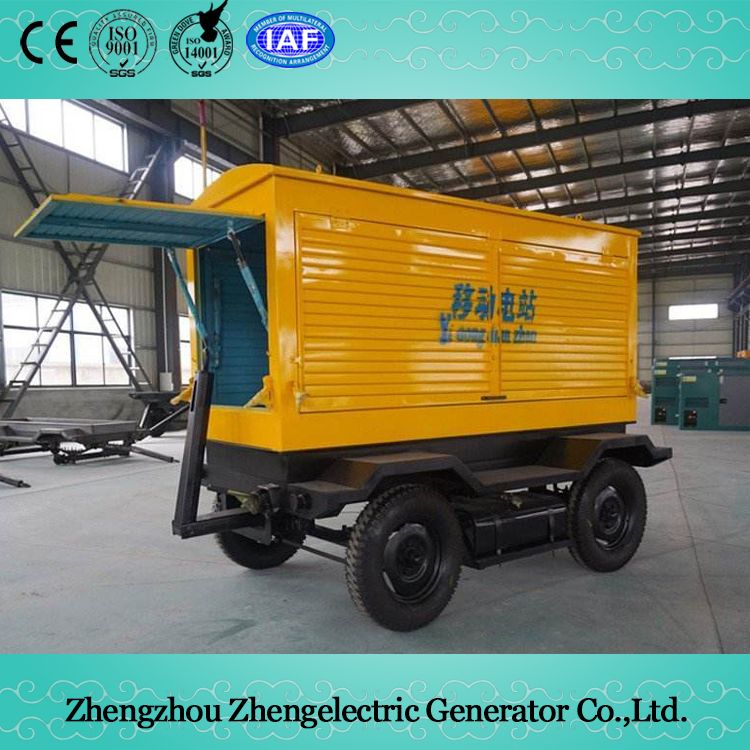 Silent Mobile/Trailer Generators
Power Range: 12.5KVA-1500KVA(10KW-1200KW)
Power Factor: 0.8 Cos Phi
Frequency: 50HZ/60HZ
Speed:1500RPM/1800RPM
Voltage Range: 110v-13500v
Protection level: IP20-IP23
Warm Tip:
 The design can be customized according to your requirements and meet the various working conditions.
Zhengdian
Silent Mobile Generators
Zhengdian
 Silent Mobile Generators is a new type of low noise and environmental protection product designed and developed by our factory by absorbing the advanced noise reduction technology at home and abroad.
   Developed by our factory has the contemporary international level of synchronization motor with domestic knowledge brand diesel engine, coaxial connection products comply with international and in line with the GB/T2320 ISO8523-1993-1997 or GB12786-91 national standards, widely used in telecommunications, hotel buildings, places of entertainment, hospital, shopping malls, industrial and mining enterprises, such as the living quarters strict noise to the environment, as a commonly used or standby power supply.
Zhengdian
series Silent Mobile Generators have the following functions in addition to the Genset 1.Overall structure: solid, compact, durable, rainproof, anticorrosive, anti-theft;
2.Beautiful shape, simple disassembly and assembly, simple installation, easy control;
3.Two bottom and three sides of sound proof outer cover surface are sprayed to improve anti-corrosion performance.
4.Multi-layer shielding, impedance staggered suppression internal structure, excellent noise reduction performance;
5.Multi-loop air inlet and exhaust channels, effective heat dissipation, ensure the continuous operation of the unit;
6.Ventilation system and thermal auxiliary measures to ensure the internal operating temperature of the unit;
7.Industrial-grade special noise-reducing and sound-absorbing material, which can greatly restrain mechanical noise;
8.High efficiency and high elastic shock absorption device is adopted to ensure the continuous and smooth operation of the generator set.
9.Special observation window and emergency for convenient observation of operation status and emergency control;
10.Special quick opening warehouse door, convenient unit daily maintenance, maintenance, overhaul;
11.The structure fully considers the full type, to ensure full operation, continuous uninterrupted operation;
12.Large capacity integrated base fuel tank, can be used for 8 hours of continuous full load operation;
13.Noise indicator drops to between 55dB(a) and 75dB(a) (7m from the sound source);
14.Novel and beautiful, low noise, less emissions, environmental protection, convenient, widely used.
15.According to the power size, equipment weight and working condition requirements of the supporting generator set, the supporting mobile chassis of double wheel, three wheel, four wheel, six wheel and eight wheel can be selected.
The ZDPower series Silent Mobile Generators has the super strong noise reduction function, adopts the integrated design, completely independent structure, can meet any of the most demanding operating conditions.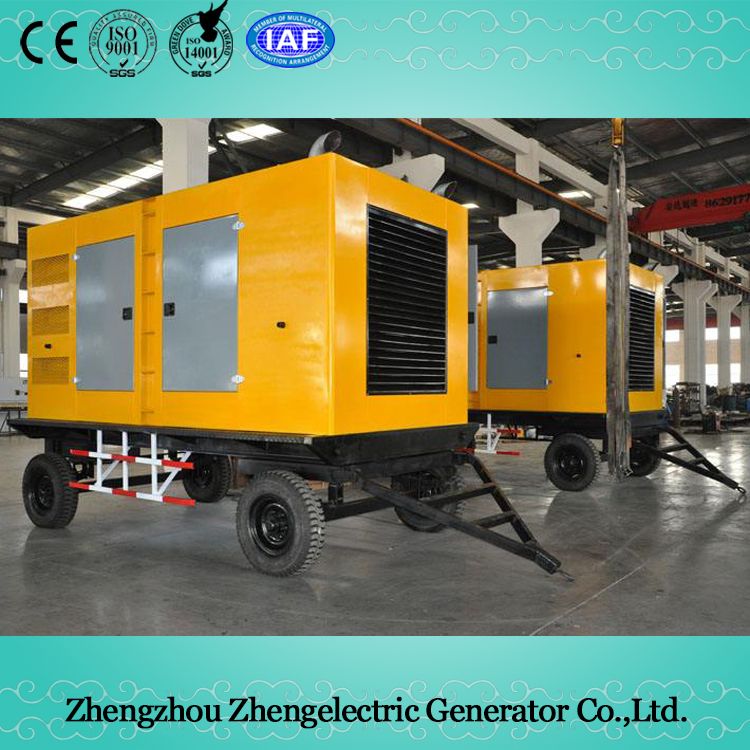 More specification of the Engine,Alternator,Controller,Battery,Spare parts,Warranty,FOB/CIF price and Payment Terms,Welcome to Contact us!