Product Description
Bursera Graveolens.
Incense Palo Santo
. 3000-cone pack. Measurement of a cone: Diameter base 18mm, Diameter tip 9mm, Height 4.5 - 5cm.Elaborated with the sawdust of Palo Santo wood and vegetal glue. We only process wood that has been found to have died naturally in the forest. Product of Ecuador.
Packaging & Shipping
We ship from Manta-Ecuador, South America.
For international orders we offer our clients DHL Express, FEDEX Express, EMS and CERTIFIED AIRMAIL since almost all destinations are reached by these couriers. This service is door to door.
Company Information
We are artisan distillers and we reforest palosanto. SHARE!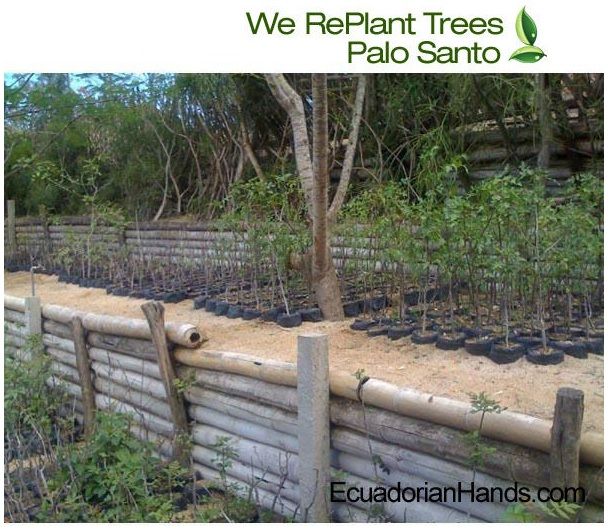 Ten years ago it started an investigation about the history and properties of the Palo Santo tree located in Puerto Lopez County, in the Manabi Province. Nowadays, at that same place theres an interesting reforestation project taking place, which is trying to rescue the forgotten tradition of planting for tomorrow.
Unlike other species, the Palo Santo must fall by its own in order to extract the Palo Santo Essential oils and also get incense sticks which are used in aromatherapy . In this process not a single tree is cut down, doing so causes it to lose its properties. The wood that falls is what The Artisan Palo Santo EcuadorianHands uses to manufacture the products, and despite the fact that we dont deforest, we do feel the responsibility to return to nature those fallen trees.
We therefore support the Reforestation Project in Puerto Lopez, through a percentage of money generated by the sale of the products of Palo Santo, which is goes directly to the project. This funding enabled the creation of a greenhouse 6 years ago. Since then an estimated 40, 000 trees have been planted. Many of these have been delivered to schools, colleges, institutions, Municipality of Puerto Lopez and even the Machalilla National Park, while the rest have given to people in a more individually way.
In addition to helping preserve the environment, the sale of Palo Santo has allowed the training of artisans who work in the whole process of production of the various items. There are about 25 people who receive a fair salary and claim to be happy with their work situation and committed to deliver a quality product.
The ultimate goal is to be able to create a forest of Palo Santo for everyone, which will generate oxygen and household work for the local people. Artisans are the ones who will execute the project and thus must continue their training and develop a culture of long-term preservation. All these activities are very important to secured the long-lasting supply of this natural Essential oil.
At the moment we are working on the paperwork and all the necessary permits to keep detailed records of all the advancements of the program. However, in the future customers who purchase Palo Santo products will be certain of their support to the environment through a satellite map which will show the places where the trees are being replanted.
What we have outlined here is a visionary project, the path is not easy, but it is important that we support the work of the craftsmen who still live in harmony with nature and take care of our only home, Earth.
FAQ 
Bursera Graveolens Palo Santo Incense Info
Bursera graveolens, known in Spanish as palo santo ("holy wood") is a tree that inhabits the coast of Ecuador. The tree belongs to the same family (Burseraceae) as frankincense and myrrh. It is widely used in folk medicine. Palo Santo is rich in terpenes such as limonene and α-terpineol.
The use of Palo Santo (or Palo Santo) from Bursera Graveolens is reported to be traditional in South America, especially in Ecuador. According to the local customs, it is used against the "mala energia" (bad energy) ("Palo Santo para limpiar tu casa de la mala energia, Palo Santo para la buena suerte" or "Palo Santo to clean your house of bad energy, Palo Santo for good luck").
The Palosanto (Bursera Graveolens) is a tree from the Ecuadorian dry forestes which was used by Chamans to cure many diseases; this is the reason why the Spanish that settled here call the tree "Santo".
Palo Santo (Bursera Graveolens) is an aromatic wood; Its smoke is used as a repellent to keep off mosquitoes, ants and other insects. It also cleans and help to remove the bad energy from the home, keep away evil spirits, induces meditation and spiritual search. The scent of Palo Santo is extremely soothing and transmits a powerful energy.
The Palo santo (Bursera Graveolens) is a tree from the Ecuadorian dry forests which was used by Chamans to cure many diseases; this is the reason why the Spanish that settled here call the tree "Santo". If we think of the body like a house where we live, we can take into consideration the ancient rituals based on Palo Santo as the ancient peoples lacked knowledge of illnesses which to them were all products of bad energy.
Incense made without harming the Palo Santo tree. We only process wood that has been found to have died naturaly in the forest. Tree grows for about 40 years and then dies. Then, it has to lay down for about 10 more years before we can process it.