Name:
Black corundum
;
Main raw materials: AI2O3 content is 70% ~ 80%, containing more silicon oxide and titanium oxide and other impurities;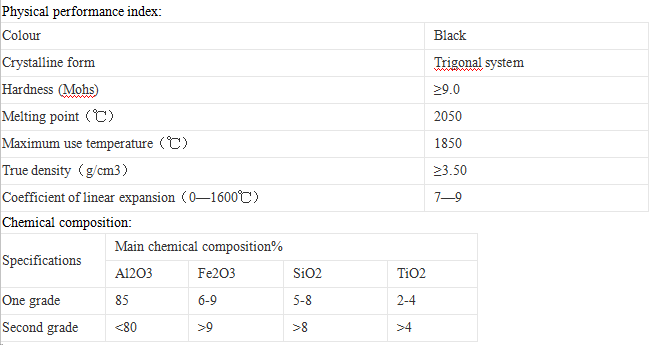 Characteristics: moderate hardness, high toughness, high temperature resistance and stable thermal performance;
Application:
1. 
Surface processing: metal oxide, carbide black skin, metal or non-metal surface rust removal,Such as gravitational die casting die, removal of rubber mould oxide or form agent, black spot of ceramic surface, removal of uranium color, rebirth of color painting;
2. 
Beautification processing: all kinds of gold, gold jewelry, precious metal products extinction or fog surface treatment, crystal, glass, corrugated, acrylic and other non-metallic fog surface processing, and can make the surface of the finished product become metallic luster;
3. 
Etching processing: jade, crystal, agate, semi precious stones, seal, stone, antiques, marble tombstone, ceramics, wood, bamboo piece of art such as etching;
4. 
Pretreatment processing: Teflon (TEFLON), PU, rubber, plastic coating, rubber barrels (ROLLER), electroplating, metal welding, titanium before processing, make the surface adhesion increase;
5. 
Edge processing: bakelite, plastic, zinc, aluminum die casting products, electronic parts, magnetic core,etc;
6. 
Stress elimination processing: space, national defense, precision industry parts, rust removal, elimination of paint, refurbishment and other stress elimination processing;
7. 
Electronic parts processing:the fog surface and etching of silicon chip,removal of impurities on the back of a wafer,spilled glue for electronic parts packaging,removal of the printed word on the surface of the finished product,ceramic electrothermal cleaning;
8. 
Mould processing:sand blasting on the surface of the mould,mist surface treatment after the die biting,wire cutting mould,glass mould,tire mould,conductive rubber mould,shoe mould,bakelite mould,electroplating mould,key mould,plastic mould;
9. 
Large workpiece process:removal of rust, removal of paint, maintenance and automatic fog surface treatment of large plate glass for  large workpieces such as oil tank, chemical tank, the hull structure, copper, tin house, container, automobile industry etc.