Specifications of Copper Strip:
1
. Thickness
: 0.15mm - 3.0mm or custom
2.
Width
: 610mm max. Coil weight: 3 ton Max
3.
Grade
: C1100 / C1020 / C1220
4. 
Chemical Composition
:C1100: Cu >99.90% C1020:
     Cu >99.96% C1220: Cu >99.97%; P 0.015-0.04%
5. 
Oxygen content
:C1100: O < 500PPM C1020: O < 50PPM
6. 
Temper
: O, 1/4H, 1/2H, H
     O: HV< 70; 1/4H:HV 65-85; 1/2H:HV 80-100; H:HV >100
7.
Electric 20℃Conductivity
:C1100/C1020 >97% ;C1220 >80%
 
 Features of Copper Strip:
>High corrosion resistance;
>Excellent malleability,can beforged the broadest,thinnest and longest;
>Mechannical and physical properties can be controlled;
>High electrical conductivity and durability;
>High precision and low cost;
>Narrow size tolerances;
>Low-fat, smooth surface;
>Concentrated materials composition;
>High dimensional stability;
>Wide range of sizes and almost zero maintenance
Applications of Copper Strip:
>Commutators
>Traction Motors
>Connectors
>Earthening
>Electrical Components
>Switchgear Products
>Electrical Contacts
>Railway Electrification
>Panel Boards
>Power Transformers
>Building & Constructions
etc.
  Parameter of Copper Strip:
Mechanical Properties:
 
Manufacturing of Copper Strip: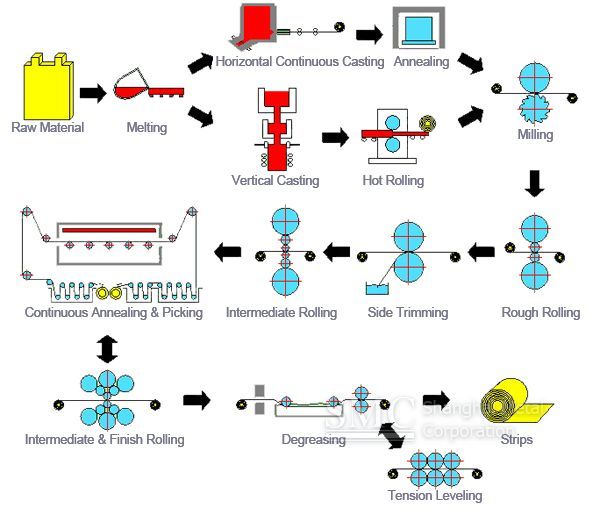 SMC Facility of Copper Strip: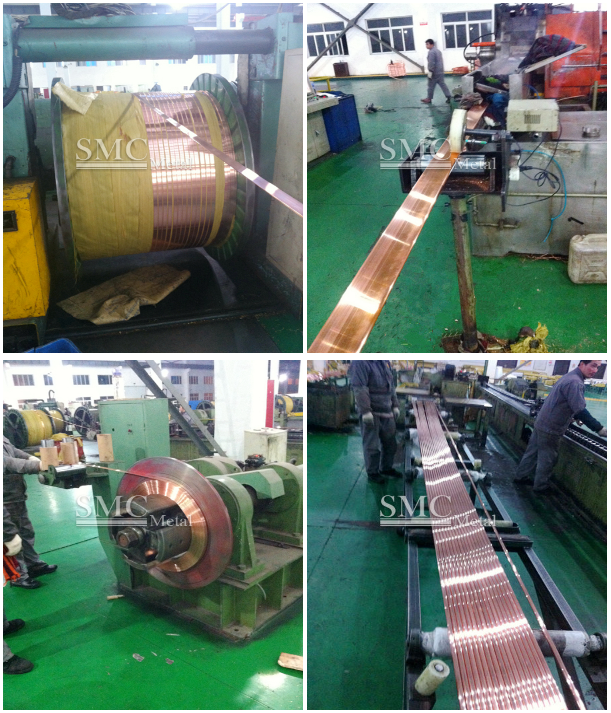 Main equipment for Copper Strip:
1) Melting Furnace
2) Hot Rolling Mill
3) Milling Line
4) 4 High /6 High Reversing Cold Rolling Mill
5) 12 High /20 High Finish Rolling Mill
6) Pickling Line
7) Degreasing Line
8) Annealing Facility
9) Tension Leveler Line
10) Roll Grinding Machie  
Packaging of Copper Strip:
SMC Products are packed and labeled according to the regulations and customer's requests. Great care is taken to avoid any damage which might be caused during storage or transportation. In addition, clear labels are tagged on the outside of the packages for easy identification of the product I. D. and quality information.
1)SMC Standard
2)Customization  
 Service:
To meet the entirety of our customers business needs, SMC offers its services as a "One-Stop Shop" for business services including Purchasing, Value-Added Manufacturing, Packaging/Labeling, and Delivery. SMC prides itself on achieving superior results and satisfying customer needs. In this, we earnestly strive to fulfill our role as trustworthy and reliable supplier of business services throughout the entire world. Our Value-Added Manufacturing Services not only save our customer time from having to out-source, but also spare them the cost of dealing with several disparate shops and deadlines.