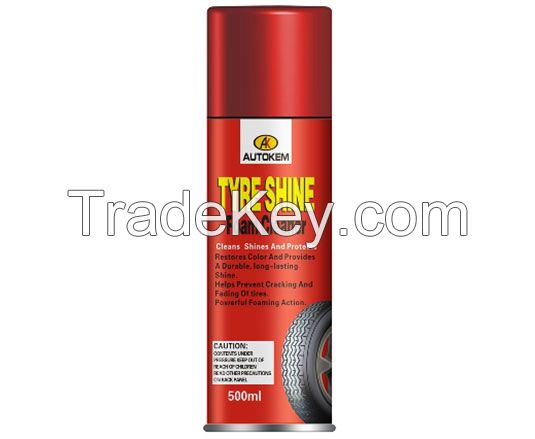 Product Code: AK-CC5003
Product Name: TYRE SHINE
Type: Aerosol Spray
Available Size: 500ml & 600ml
Units per case: 12

AUTOKEM TYRE SHINE Makes your tires look beautiful and new!
Features&Benefits:
- Advanced formula for a deep, gloss black shine

- For a durable, long lasting shine
- Protects tyres from fading & cracking 
 
Product Description:
AK-CC5003 Tyre Shine is the quick and easy way to produce a deep gloss shine on tyres in seconds. Autokem Tyre Shine gives your tyres, rubber and plastic parts that "new" wet look showroom appearance. Simply spray directly onto surface, it helps preserve your tyres by protecting them from harmful elements that can cause cracking and fading.
Directions:
- Ensure that the surface to be treated is clean and dry
- Hold can 10 to 15cm away from tyre surface and spray in circular direction allowing even
   coverage of the sidewall
- Allow to dry (5 to 10 minutes)
- For a deeper shine reapply as necessary