About EOD Suit-PB01
Description
EOD Suit is composed of bulletproof jacket, bulletproof trousers, bulletproof collar, helmet, visor and so on.
The shoulders of bulletproof jacket match with overlapping hinged plates cushion to avoid the no-bulletproof gap engendered by the body or arm activities. Joint of each piece of bulletproof cushion are double, also strengthen at stress points, to improve the strength and durability.
There are three suspended and mobile belts for the full range of adjustment, suitable for all kinds of headform.
The modular suit design allows rapid donning and removal.
Not only the high ballistic performance, but also it can provide maximum comfortability and flexibility for the users.
Construction
Tops with a protective collar
Bottoms
Helmet with protection visor   
Neck protection plate
Chest protection plate
Water cooling system
Weight
Clothes : 19.0 kg
Helmet : 3.0 kg
Cooling suit: 3.0kg
Ceramic protective plate: 3.0kg
 
Technical indicators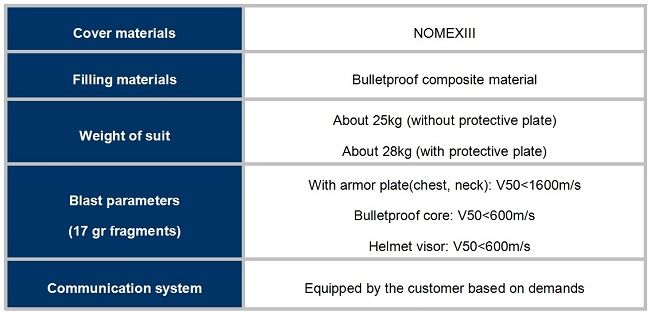 About Protech
We would like to introduce our company Beijing Protech to you, manufacturer of the excellent quality 
bulletproof UD from China. We produce laminated UD suitable for hard and soft ballistics. And our products 
Have been widely used in bulletproof vests, hard inserts, helmets, shields, and other bulletproof and/or 
puncture-proof application. 
Why do we have the best quality UD? The key is in the combination of Protech's best UD technology (for 
both soft and hard UD) with the high quality raw fiber from international famous company. And in 2012 
Protech signed a strategic alliance with ICD Fiber(ICD is A DSM company in China) for exclusive delivery 
of UHMWPE-fiber. 
Our materials are made from aramid or UHMWPE fiber together with special water-based resin, which 
are composites through a specific process technology with layers of unidirection laminated in 0/90°. Now 
UD materials have been widely used in bulletproof clothing, bullet-proof plates, other protective products, 
Armor aerospace and so on. And our products will bring customers more profits and development with 
the advantage of "High performance, high performance/price ratio, safe and flexible".
Products of Protech are sold stably in domestic and overseas market. The trajectory is more than a dozen 
countries and regions all over the world with good reputation. We were working hard on becoming the 
most reliable manufacturer of protective materials in the world and developing broad market of 
protective materials with the partners.
Workshop: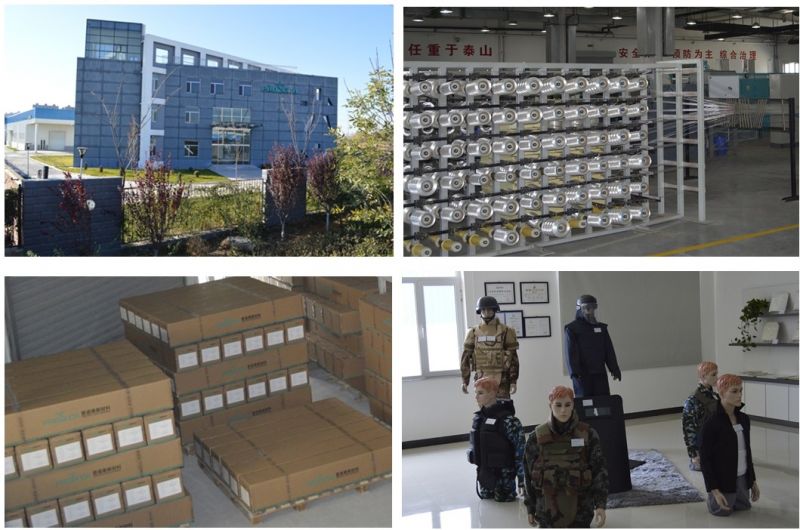 Certificates: