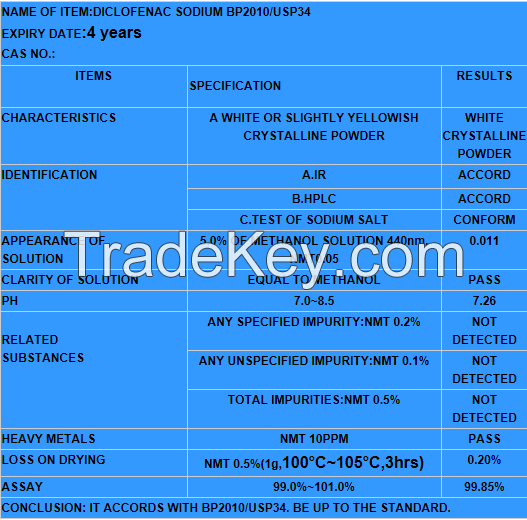 Specifications
1.Product Name:DICLOFENAC SODIUM
2.Standard: USP34/BP2010 

3.APPEARANCE:WHITE OR YELLOW CRYSTALLINE POWDER

4.ASSAY:99-101%

5.Packing: 25kg/drum

6.Delivery Detail:within 15 days after SC finshed
OUR SERVICES:
Quality Control:
We have stable suppliers for most of these items. We will do many studies for our suppliers before we choose them as our suppliers, we will make credit investigations, and test quality from different batches, study some necessary quality certificate from them.
After approvement, we will make record in our suppliers system.
In case we develop new manufacturers as our supplier, we will do same work from the start.
Shipping procedure:
We have stable shipping agent in Chinese main ports. With good service.
Photos will be taken for every shipment, including shipping marks, packages, and procedure of loading.
We use fast, direct vessels (If there is direct vessels), good shipping line, with good service. We signed long time agreement with these companies every year, with competitive freight.
For FCL, we supply 21 days free demurrage in destination, so consignee have enough time to clear the cargo in destination to avoid any unnecessary charge.
For LCL, we will confirm charges in destination before shipment with customers, to avoid any unreasonable, high charges for customers in destination from local shipping agent.
Docs. Service:
All docs. will be sent to customers for confirmation before shipment.
And all courier numbers, both for bank and for customer will be sent to customer for tracing.
For more information,pls kindly contact E-mail: yvonney@loyapharm.com