S&S New Energy Carbon Cleaning  Machine:
1.Oxy hydrogen cleans away the carbon deposits efficiently and without mess or harm to the environment.
2. The results are more low RPM power in a smoother running and more efficient engine.
3. Carbon reduction results can be seen using a micro-camera, before and after the process.
4. Different from the traditional carbon reducing methods; no pollution, no harmful gases or chemical additives to harm you, your car or the environment.
5. Save time and money by using the S&S New Energy Oxy hydrogen Carbon Cleaning Machine increase your business potential, customer base and profits.  
Conclusion
After using the S&S New Energy Oxy hydrogen Carbon Cleaning Machine, carbon deposits is completely cleaned away, engine efficiency is increased, power and performance are restored, life expectancy is improved and engine emissions are reduced.  
Product details:
1. Principles of  Oxy hydrogen generator
HHO carbon cleaning machine is able to separate clean soft water (H2O) into hydrogen and oxygen mixed gases (ie, HHO gas/brown gas ), using a small amount of electric power through a special process. These gases are then mixed and delivered for use in a wide variety of applications, such as heating, brazing, cutting, etc. which currently use LPG or other gas for fuel. When burned, this fuel generates no green house gases or pollutants, and burns at virtually 100% efficiency. The Oxyhydrogen engine carbon clean certainly has the potential for becoming the most significant advancement in fuel for the 21st century.  
2. Introduction of  Oxy hydrogen Carbon Clean Machine
The engine is ready after normal operating temperature has been reached. The carbon cleaning process takes only 40 minutes. Connect the output from the carbon cleaning system to the engine's intake manifold (vacuum line).    
3. Benefits for car after Engine Carbon Clean 
After using the , carbon build-up is completely cleaned away, engine efficiency is increased, power and performance are restored, life expectancy is improved and engine emissions are reduced.  
4. Features of S&S New Energy Carbon Cleaning Machine
1) The power supply:  Inverter DC resonance power supply is made of imported IGBT power valve. The electrolysis efficiency is high and electrolysis current is stable and adjustable. It can long-term work 24-hours continuous. Other manufacturers use silicon controlled rectifier, efficiency of power supply is low.
2) Electrolysis Cell: It adopts large precise mould to integrated formed, prevent from explosion and leakage, work life is long. It is suitable for kinds of complicated working condition.
3) Radiation system: Reasonable structured radiation design of three-dimensional air flue ensures the radiation effect, no need to cooling by water cycle.
4) Safety system: Safety system adopts multi-level swing type water seal design, detects and controls the safe water level automatically, ensures 100% prevent from backfire, dry-free type flashback arrestor .
5) Control system: Control water level and pressure automatically, exception catch setting, stabilize the pressure device.
6) Water and gas separation system: Gravity swing water and gas separation system, water vapor collection and backflow design, ensure that there is no moisture in the gas output pipe.
7) Others: Professional research and develop team lead by Energy major specialty Doctor. ISO9000 quality management system, China Compulsory Certification (CCC), EU CE certification.  
6. Advantages of S&S New Energy Oxy hydrogen Carbon Cleaning Machine
Oxyhydrogen Engine Carbon Clean is equipment which just needs water and electricity to produce hydrogen and oxygen as needed. Oxygen is a kind of gas for helping to combust, and hydrogen is a kind of carbon-free gas. During the process of producing and using oxyhydrogen, there is no harm to environment. Compared with other fuels, oxyhydrogen fuel produced by HHO Carbon Clean Machine has the advantages as follows.
1) Maximum Safetya.  HHO carbon cleaning machine is steady, reliable fuel delivery. Fuel is available immediately after the HHO Carbon Cleaning Machine is switched on. No volatile fuel tanks which can rupture or explode.b. HHO Carbon Cleaning possesses multiple safety devices, including overheating and in-sufficient water cut-off switches, and it will automatically turn off power to ensure the safety of both Oxyhydrogen Engine Carbon Clean and user.
2) Environmentally Friendly
a. The Fuel generated by our Oxy hydrogen Carbon Cleaning Machine burns completely without creating pollutants, toxic fumes, or public nuisance.
b. Oxy hydrogen Carbon Cleaning Machine won't generate hydrocarbons, carbon monoxide, or carbon dioxide.
C. Oxy hydrogen Carbon Cleaning Machine has a low heat dispersal, use of this fuel provide a more focused heat source with less heat loss, maintaining a more comfortable, safer, lower fatigue working environment.
3) High Mobility
a.Our Oxy hydrogen Carbon Cleaning Machine comes equipped with wheels to facilitate moving the generators to the job, not the other way around.
b. Our Oxy hydrogen Carbon Cleaning Machine immediately generates fuel as needed, eliminating the need for dangerous awkward gas tanks.
c. Fuel can be used for long periods of time without overheating peripheral the HHO Carbon Cleaning Machine.
4) High Temperature & Calorific value
a. Calorific value of Oxy hydrogen gas is 34000Kcal/kg
b. The flame temperature of Oxy hydrogen gas is over 2800
°
, it can melt refractory metals and none-metals.
5) Low Cost & Maximum Economy
Fuel generated by Oxy hydrogen Carbon Cleaning Machine uses only electricity and clean soft water
b. Oxy hydrogen Carbon Cleaning Machine is both economical and practical when compared to the currently used LPG, Propane, or acetylene.
6) Concentrated heat value & Automatical regeneration.
Oxy hydrogen gas flame is straight, less heat loss and high-efficient. Hydrogen comes from water and will revert to water after combustion.
7)Catalysis characteristic
Hydrogen is an active catalyst which can be mixed with air to add in to catalyze and combust all solid, liquid, gas fuel. It also can speed up the reaction process, promote the complete combustion to enhance the flame temperature, the effect of energy saving and emission reduction.
8) Using by producing
  HHO Carbon Cleaning Machine can supply gas as users set by adopting the advanced automatically control technology, and there will be no gas to storage.  
7. About S&S New Energy Tech Ltd. Co. specializes in research, manufacturing HHO Carbon Cleaning Machine, owned many patents.
1)  Patented In
tegration of Water Electrolysis Cell FormingOur electrolysis cell Integration is used in Large Module in order to make sure No Leakage, Explosion-proof, and Long Life Cycle.
2)  Patented Electrolysis Power Supply based SCM Our Power Supply is special designed for Electrolysis.For example:    
2.1 Constant current control by temperature feedback control    
2.2 Current adjust by user to meet the constant flux of oxy-hydrogen gas    
2.3 Efficient energy conversion ( AC TO DC) based IGBT    
2.4 Special cooling design for working 24 hours continues.
3)  Patented Multi-layer ANTI-FIRE Water Seal TechnologyWater Seal Device is important unit of Oxyhydrogen Engine Carbon Clean, this unit is designed for backfire-proof, It works 100% OK.
4)  Automatic Water Level Detection Technology
,
We design by ourselves, it used for detect the water level of the electrolysis cell and water -deposit tank. When water is too low, the alert lamp is light. When water is lowest, the power supply switches off to proof the Oxyhydrogen Engine Carbon Clean.
5)  Water Automatic Replenishment TechnologyWhen water of the electrolysis cell is too low, the system will auto pump water from water-deposit tank.
6)  High-efficiency Gas Water Separator TechnologyThis Technology is used to separate the water from gas in order to ensure the gas is pure. If the oxyhydrogen gas has some water even little, the temperature of the oxyhydrogen flame will become lower.
7)  Electrolyte-Automatic Cycle Technology
We used static way to realize Electrolyte Cycle, don't use pump because the pump is a mechanic unit that is easily damaged.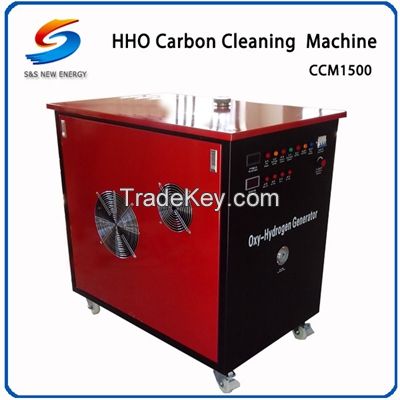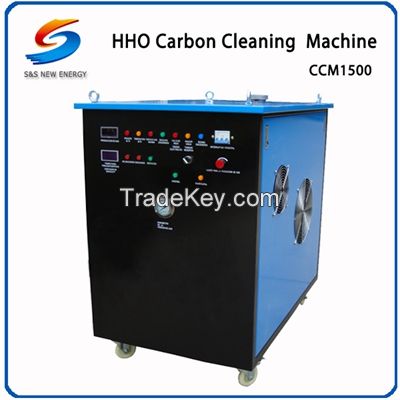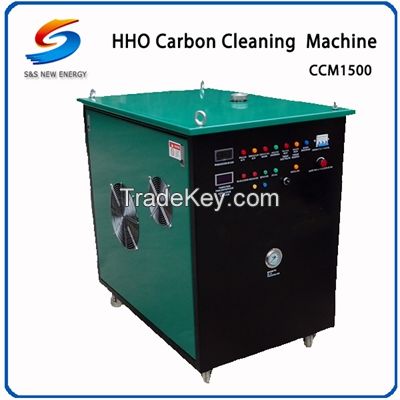 Model Number             CCM1500 
AC Voltage                380/220V 
AC Current                3 phase 
Max. Gas Output            1500 L/h 
Power Consumption       4.5(kW/h)
Max. Working Pressure       1.9kg/cm2
Max. Water Consumption (L/h)     0.9
Ventilation Space Requirement (mm)   400 in each direction 
Dimensions -                 L*W*H 1200*800*1200mm 
Gross Weight                 180KG 
Usage:            Carbon cleaning system for cars 
Color             Black, Grey, Red ect.
Warranty           1 year