Name:
regular fused alumina
;
Main ingredients: Brown artificial corundum obtained by melting and reducing of three kinds of raw materials, bauxite, carbon material and iron chip in Arc furnace;
Chemical composition: AL2O3 content 95.00%-97.00%, and also contains a small amount of Fe, Si, Ti and so on;
Features: high purity, good crystallization, strong fluidity, low coefficient of linear expansion, corrosion resistance;
Note: F is the specification of consolidation abrasives and sandblasting;
P is the specification for Coated Abrasives;
W is fine powder, 320# is W40;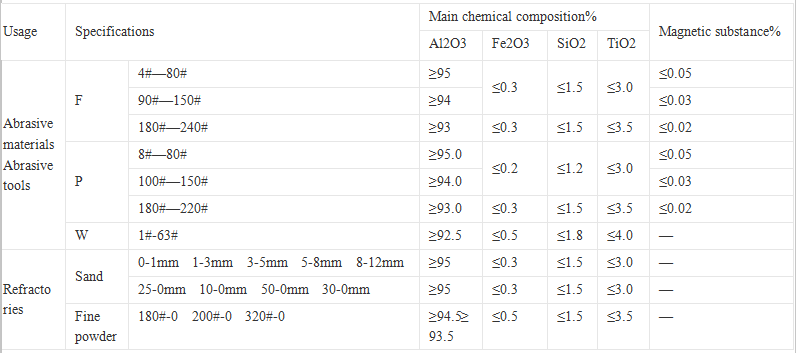 Grade: the main component of the brown corundum is alumina, and the grade is distinguished by the aluminum content. The lower the aluminum content, the lower the hardness;
Application:
1. 
Used in the manufacture of advanced refractory materials, castables, refractory bricks, etc;
2. 
Sandblasting:abrasive hardness is moderate, bulk density is high, no free silica, great ratio, good toughness, it is an ideal "environmental protection" sandblasting material, widely used in aluminum profile, copper profile glass, water washed jeans, precision molds and other fields;
3. 
Free grinding:abrasive grade abrasive is applied in the field of free grinding of picture tube, optical glass, monocrystalline silicon, lens, clock glass, crystal glass, jade and other fields. It is a widely used advanced abrasive material in China;
4. 
Resin abrasives:abrasive with suitable color, good hardness, toughness, suitable particle section type and edge retention. It is ideal for resin grinding tools;
Coated abrasives - abrasive is the raw material for the manufacturers of sand paper and gauze;

Functional filler -- mainly used for automobile brake parts, special tires, special building products and so on, can be used for building expressway pavement. Runway, wharf, parking lot, industrial floor, sports field and other wearable materials;

Filter media:It is a new application field of abrasive,grainy abrasive as the bottom medium of the filter bed,purify drinking water or waste water,it is a new type of water filtration material at home and abroad,especially suitable for non ferrous metals beneficiation,oil drilling mud weighting compound;

Hydraulic cutting -- abrasive cutting media, high pressure hydraulic jet cutting, applied to oil (natural gas) pipeline, steel and other components cutting, is a new, environmentally friendly and safe way of cutting.