Thermoplastic Polyurethane
タイトルまたは説明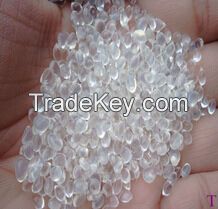 Usage of TPU extrusion resin 
Belt purpose: conveyor belt, round belt, rough belt, V-belt…etc.
Tube purpose: conveyor tube, pneumatic tube, fire hose…etc.
Industrial purpose: cable, wire coverage…etc. 
Features of TPU extrusion resin
Our TPU resin has high transparency, good toughness, abrasion resistance, UV resistance, hydrolysis resistance, low temperature resistance, oil resistance and so on. 
Application
Shoe industry, Automobile industry, Machanical parts, Electronic industry, Garment industry, Sport industry, Tube/Hose making, Belting, 3C product accessories.
Grade

Unit

Test method

65

70

75

80

85

Physical property

Hardness

ShoreA

ASTM D2240

65

±

 2

70

±

 3

75

±

 2

80

±

 2

85

±

 2

Density

g/cm3

ASTM D792

≥

 1.21

≥

 1.19

≥

 1.19

≥

 1.18

≥

 1.19

100% Modulus

Mpa

ASTM D412

≥

 2

≥

 2

≥

 3

≥

 4

≥

 6

300%




Modulus

Mpa

ASTM D412

≥

 6

≥

 8

≥

 10

≥

 12

≥

 14

Tensile strength 

 

Mpa

ASTM D412

≥

 45

≥

 28

≥

 30

≥

 32

≥

 35

Elongation

%

ASTM D412

≥

 800

≥

 700

≥

 600

≥

 550

≥

 500

Abradability

mm3

ISO4649

36

39

40

30

30

Tear strength

N/mm

ASTM D624

≥

 60

≥

 65

≥

 70

≥

 90

≥

 100

Processing Temp.

°C

 

160-180

165-190

170-195

180-200

185-205

Glass transition Temp.

°C

DSC

-45

-43

-42

-40

-38
 


Get Verified Buyers & Suppliers
Avail Free Consultation