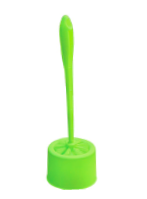 Mini Toilett Brush Plastic Handle and Fibers 
El Helal and Golden Star Company is the leading manufacturer of household cleaning utensils in the Middle East. With 8 factories in Egypt and a labor force of over 1,500 employees the company has managed to expand its operations throughout Africa, the Middle East and Europe.  
Our Portfolio consists of three major categories:
Household Cleaning Utensils:
Brushes, Handles, Mops, Buckets, Squeegees, Ropes and Dusters.
Plastic Household Appliances:
Bins, Basins, Kitchen Appliances, Drawers Chests, Tables, Chairs as well as Kids collection of Potty, Bath Tub, Slide and Seesaw
Molded Rattan outdoor garden furniture  
The export market represents 35% of sales revenues. Our key to success is the ability to customize our product range according to customers needs. We supply over 35 private labels worldwide as well as our own brands: El Helal and Golden Star, Alwan and Boja.