Spray Disinfection robot product introduction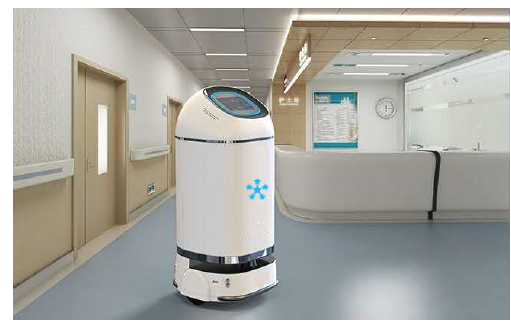 RoboCT disinfection robot is equipped with a new space dry fog sterilization system, which has strong sterilization ability and low corrosiveness. The system uses special disinfectant to sterilize in the form of dry fog. Through strong air supply, the dry fog diffuses and evaporates in the space, so as to completely kill the microorganisms and viruses in the air. The robot has the ability to move autonomously, which can realize the mobile inspection solution of disinfection and sterilization body in large environment.
1、Product features
1. Strong sterilization and disinfection ability
2. Large workspace
3. Make use of self moving chassis to realize unmanned work
4. Wide range of sterilization, no harmful residue
2、Application scenario
1、Medical institutions: isolation bed, operating room, waiting room
2、Transportation hub: airport, railway station, bus station
3、Enterprise unit: office area, public area
4、Building area: Community Service Center, public corridor
5、Consumption place: Hotel, restaurant, KTV, shopping mall, cinema
3、Product parameters
| | | |
| --- | --- | --- |
| NO | performance parameter | RoboCT spray disinfection robot |
| 1 | Product material | 304 stainless steel + PC + ABS + aluminum alloy |
| 2 | area covered | 550*550mm |
| 3 | Sterilization efficiency | Broad spectrum sterilization effect of log4 ~ log6 |
| 4 | Sterilizing agent | Special disinfectant |
| 5 | Spray particle size | 10um grade |
| 6 | Dosage | 15g/min |
| 7 | working voltage | DC24V |
| 8 | Motion | Two wheel differential (zero radius turn) |
| 9 | Drive Tire | Material TPE width 1.5 "diameter 8" |
| 10 | Obstacle crossing height | /s |
| 11 | Width of obstacle crossing ditch | /s |
| 12 | surface condition | Horizontal floor |
| 13 | Ascent desecration | 10 degrees @ full load |
| 14 | braking distance | /s |
| 15 | Positioning technology | Laser + odometer + gyroscope multi-sensor fusion positioning |
| 16 | Lidar | Scope: 10M safety level: Level 1 (human eye safety) |
| 17 | positioning accuracy | 20cm |
| 18 | Battery type | Lithium ion (18650 electric core imported from LG) |
| 19 | Battery capacity | 34V/20Ah |
| 20 | Running time | 6H |
| 21 | Charging time | 4H |
4、Factory and qualification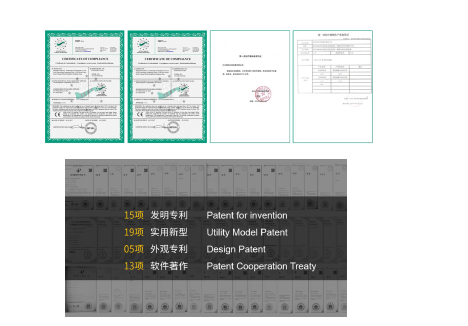 5、Precautions
(precautions)
-Avoid placing the machine in a wet place, and a large amount of water vapor will enter the motor components through the gap.
-When you stop working, please turn off the power of the motor, safety first.
-Do not use in dusty places.
(instructions for regular maintenance)
-Wipe the surface of perpendicularity adjusting part to avoid affecting the accuracy.
-Adjust the verticality adjusting parts regularly to ensure that the tire is in a vertical state.
-Before each start-up, the sundries within the operation range of the machine must be removed with an air gun, the power supply must be connected, the machine must be started, and the operation condition of the machine must be checked.
-Check whether the fastening screws are loose.
-If the machine is not used for a long time, please wipe it clean and put it in a dry and ventilated environment. Do not store it in a place with high temperature and humidity.
--Every season, the motor bearing needs to be replaced with oil to ensure that the motor runs without resistance.
-Every season, the oil of shock absorption bearing needs to be changed to ensure the smooth running of tire.
6、 After sales service
1. Our company can provide installation, debugging and technical training for all our products.
2. After the installation and commissioning, the warranty period is one year (except for vulnerable parts and artificial damage), with a lifetime warranty.
3. Irregular on-site maintenance, on-site operation and technical training.
4. After sales contact: 0571-89167832.
5. Service content: in case of equipment failure, first communicate by phone. If the problem cannot be solved, our company will rush to the site as soon as possible to solve the problem. After sales service includes not only equipment maintenance, but also technical support. Our technicians can carry out on-site technical training and provide a complete set of solutions. Professional and technical personnel shall follow up the use of user\'s equipment at any time.