Product introduction of JA110
Joint Module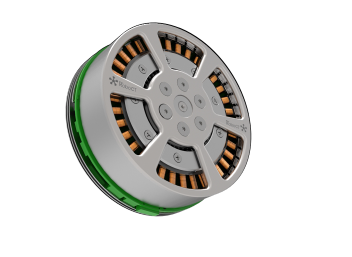 1、 Product features
Main features of joint module:
1. Compact structure: compact stator and rotor structure, built-in encoder and driver;
2. Fast response: small moment of inertia, fast dynamic response;
3. Precise control: low torque ripple, easy to speed control and precise positioning;
4. Small and precise: the outer diameter is only 115mm, the large and medium-sized empty wire holes, ultra light weight, effectively ensuring
the reasonable self weight ratio of the robot;
5. Ready to use: it can be directly connected with the joint module and the driving mechanical arm.
2、Application scenario
The joint module can provide multiple degrees of freedom for various machines. For example, bionic robot, cooperative robot, welding robot, exoskeleton robot and other fields meet the needs of different industries, such as industry, scientific research, commerce, medical treatment, etc., with wide application, stable quality and large shipment.
3、Parameter Table
| | | |
| --- | --- | --- |
| Serial number | Model | JA110 |
| 1 | external diameter mm | 115 |
| 2 | length mm | 49 |
| 3 | weight g | 1900 |
| 5 | Reduction ratio | 37.1 |
| 6 | Peak torque Nm | 150 |
| 7 | Continuous output torque Nm | 70 |
| 8 | Motor power W | 280 |
| 9 | Rated current A | 7.9 |
| 10 | Power supply voltage VDC | 36 |
| 11 | Rated speed rpm | 28.3 |
| 12 | Maximum speed | 36.3 |
| 13 | Polar logarithm | 21 |
| 15 | Encoder form | Mutual inductance encoder 4501 |
| 16 | Repeated positioning accuracy | Less than 4 minutes of arc |
| 17 | Absolute positioning accuracy | ±0.02° |
| 18 | Resolving power | 8768 |
| 19 | Brake form | Software braking |
| 21 | interface design | Integrate |
The above parameters are for reference only. Our product technology is constantly updated and upgraded. At the same time, we also accept the customization and development of customers.
4、Product Details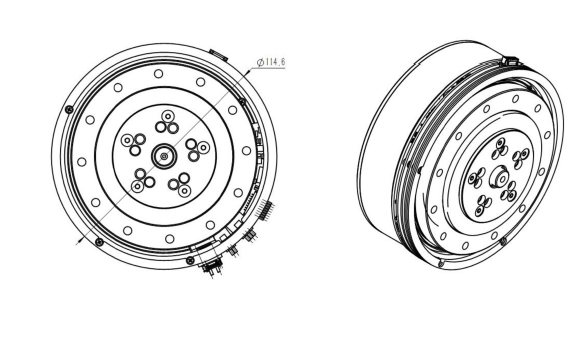 5、Factory and Qualification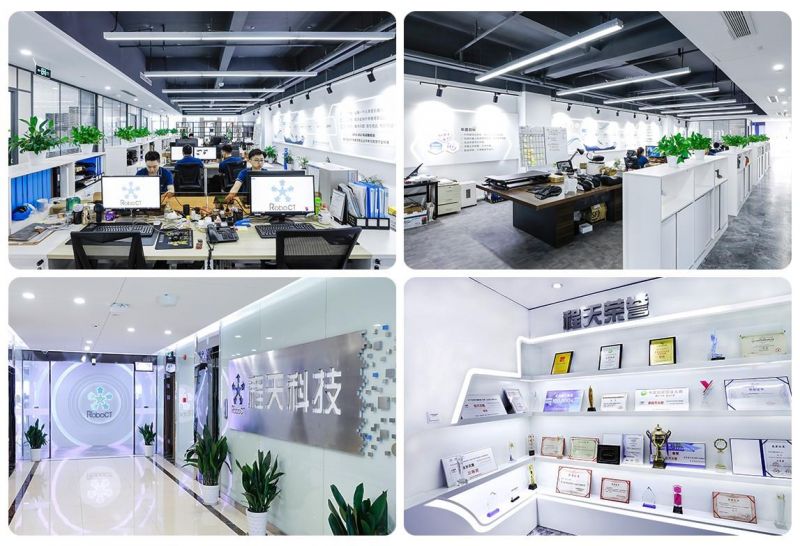 6、Instructions and precautions
(precautions)
1. Electric shock hazard, the equipment must be connected to the power supply under the condition of protective grounding
2. Avoid placing the joint module in a damp place, which may cause short circuit risk.
3. Avoid the sharp objects close to the stator winding to prevent the insulation layer from damage and short circuit of the motor.
4. Do not use in dusty places.
5. Wear electrostatic bracelet to prevent electrostatic breakdown.
6. Crystal products may be damaged under certain conditions. For example, falling off the table or being impacted during the mounting process. If the product has been impacted, it is not recommended to continue to use it.
7. Exposure to radiation environment will cause damage to product performance.
8. Do not use or store products in an environment where the pH range may cause corrosion or dissolution of products or packaging materials.
9. Do not use the product in halogen gas environment. Even a small amount of halogen gas, such as chlorine in the air or metal parts used for packaging, can cause corrosion. At the same time, do not use any resin that will release halogen gas.
10. Store in indoor environment with temperature not more than 35 ℃, relative humidity not more than 75%, and no corrosive gas
(instructions for regular maintenance)
1. Clean the dust on the joint module every quarter.
2. Every quarter, observe whether the electronic components in the circuit have the traces of high temperature, and whether the electrolytic capacitor has the phenomenon of bulge and leakage, if any, replace it.
3. Check whether there is crack or loose welding between pad and component foot of ja110 joint module printed circuit quarterly, and repair welding if any.
4. Retighten the interface screw of servo driver or replace the screw every quarter.
5. Check whether the shell of ja110 joint module falls off slightly every quarter.
6. Check the capacity of the electrolytic capacitor in the servo driver every year. If it is found that the capacity of the electrolytic capacitor is less than 20% of the nominal capacity, it should be replaced. Generally, the life of the electrolytic capacitor
should be replaced after about ten years to ensure the working performance of the servo driver.
7、 After sales service
1. Our company can provide installation, debugging and technical training for all our products.
2. After the installation and commissioning, the warranty period is one year (except for vulnerable parts and artificial damage), with a lifetime warranty.
3. Irregular on-site maintenance, on-site operation and technical training.
4. After sales contact: 0571-89167832.
5. Service content: in case of equipment failure, first communicate by phone. If the problem cannot be solved, our company will rush to the site as soon as possible to solve the problem. After sales service includes not only equipment maintenance, but also technical support. Our technicians can carry out on-site technical training and provide a complete set of solutions. Professional and technical personnel shall follow up the use of user\'s equipment at any time.