Mecanum Wheel Module Product Introduction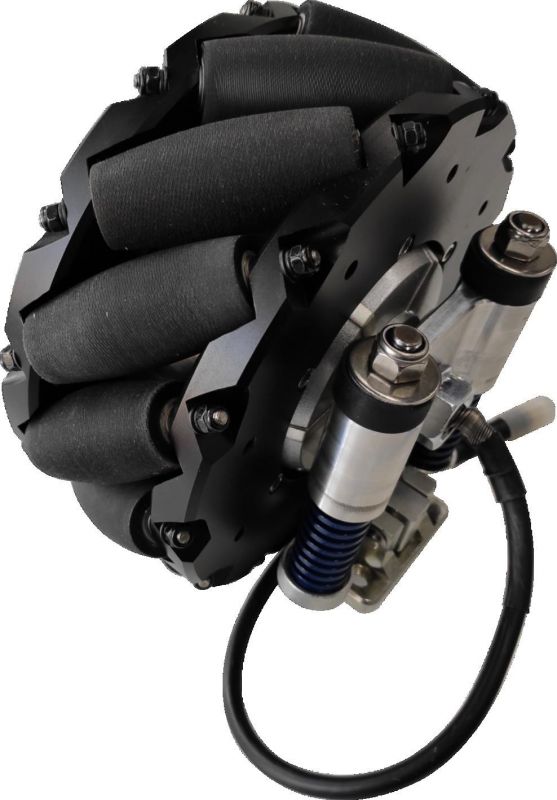 Based on the traditional omni-directional mecanum wheel, RoboCT mecanum wheel module integrates hub motor, encoder and special shock absorption system, which has a higher degree of compactness and flexibility.The omni-directional motion equipment based on mecanum wheel technology can realize forward, horizontal, oblique, rotation and combination of motion modes, which has significant adaptability and wide application in the scene of limited transfer space and narrow operation channel.
1 Product features
-Omnidirectional movement, zero radius rotation, flexible posture.
-Support a variety of sports.
-Integrated hub motor, encoder, compact structure, high space utilization.
-Integrated design, simple installation.
-

High performance, high precision.
-Support customization

.
2Application scenario


Mecanum

wheel

module can be applied to mobile robots, warehousing and logistics robots, AGV, AMR, intelligent parking equipment, general robots and other fields, to meet the needs of different industries such as industry, scientific research, commerce, medical treatment, etc., with a wide range of applications, stable quality and large shipment.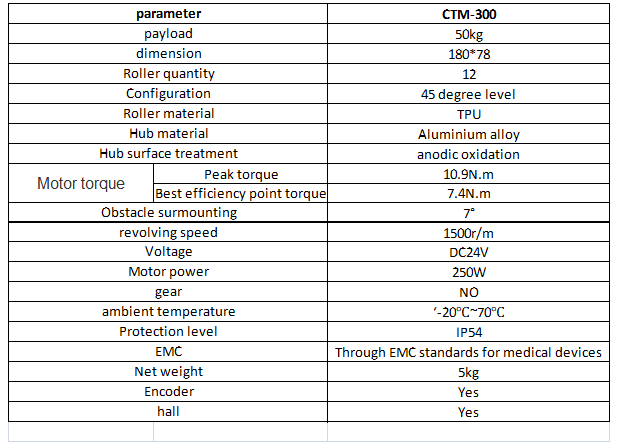 3Parameter table
The above parameters are for reference only. Our product technology is constantly updated and upgraded. At the same time, we also accept the customization and development of customers.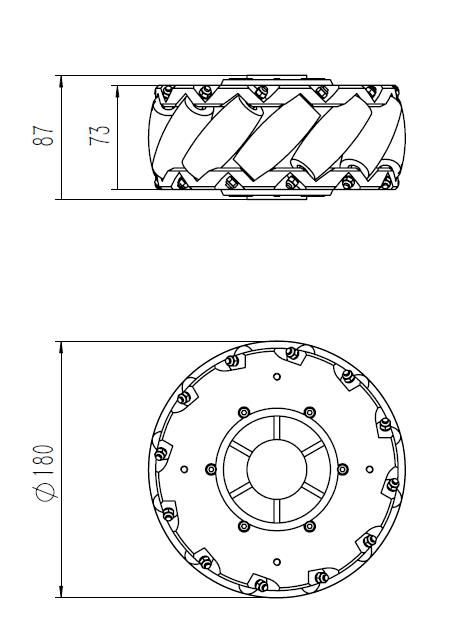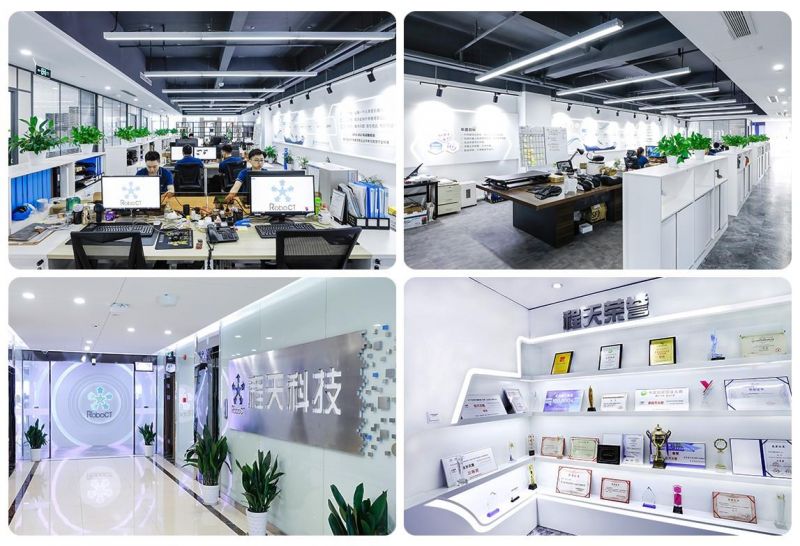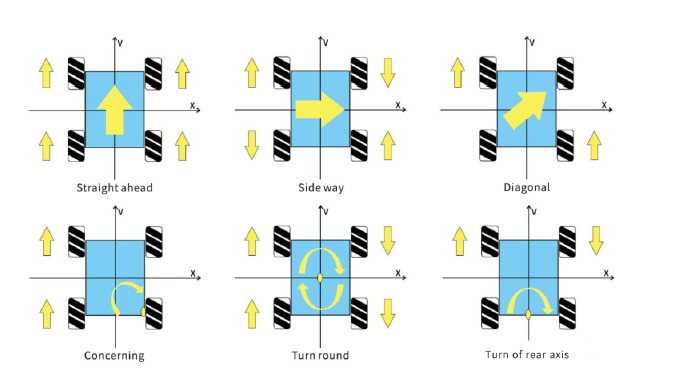 Operation mode
The operation mode is divided into straight travel, backward travel, left translation, right translation, left rotation and right rotation as the operation direction of the four Mecanum wheels changes.
(precautions)
-When taking the mecanum wheel, avoid directly lifting the motor line by hand. This will cause loose motor wires and poor contact with motor components.
-When taking the mecanum wheel, do not use the palm to fit the roller, resulting in the palm muscle being squeezed by the roller.
-Avoid placing the machine in a wet place, and a large amount of water vapor will enter the motor components through the gap.
-When you stop working, please turn off the power of the motor, safety first.
-Do not use in dusty places.
(instructions for regular maintenance)
-Wipe the surface of perpendicularity adjusting part to avoid affecting the accuracy.
-Adjust the verticality adjusting parts regularly to ensure that the tire is in a vertical state.
-Before each start-up, the sundries within the operation range of the machine must be removed with an air gun, the power supply must be connected, the machine must be started, and the operation condition of the machine must be checked.
-Check whether the fastening screws are loose.
-If the machine is not used for a long time, please wipe it clean and put it in a dry and ventilated environment. Do not store it in a place with high temperature and humidity.
--Every season, the motor bearing needs to be replaced with oil to ensure that the motor runs without resistance.
-Every season, the oil of shock absorption bearing needs to be changed to ensure the smooth running of tire.
7 After sales service
1. Our company can provide installation, debugging and technical training for all our products.
2. After the installation and commissioning, the warranty period is one year (except for vulnerable parts and artificial damage), with a lifetime warranty.
3. Irregular on-site maintenance, on-site operation and technical training.
4. After sales contact: 0571-89167832.
5. Service content: in case of equipment failure, first communicate by phone. If the problem cannot be solved, our company will rush to the site as soon as possible to solve the problem. After sales service includes not only equipment maintenance, but also technical support. Our technicians can carry out on-site technical training and provide a complete set of solutions. Professional and technical personnel shall follow up the use of user\'s equipment at any time.