RoboCT spray disinfection robot product
Introduction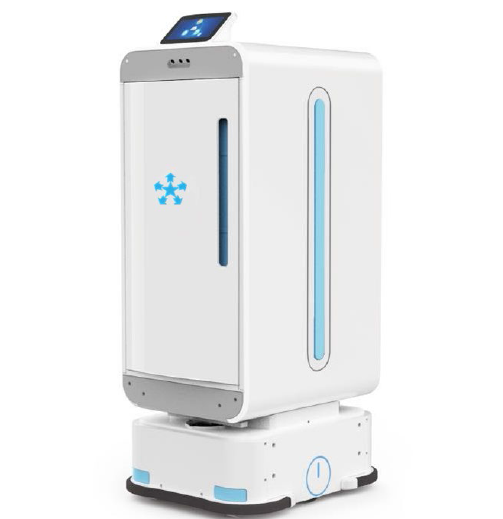 RoboCT UV disinfection robot integrates two disinfection and sterilization methods of
UV and air filtration. By destroying the molecular structure of DNA (deoxyribonucleic
acid) and RNA (ribonucleic acid) of microbial cells, it causes the death of growth cells
and / or regenerative cells, so as to achieve the effect of sterilization and disinfection. At the same time, combined with autonomous navigation and dynamic obstacle avoidance functions, the robot can achieve large space, intelligent, autonomous, multi track, fixed-point timing killing.
1、Product features
1. Strong sterilization and disinfection ability
2. Large workspace
3. Make use of self moving chassis to realize unmanned work
4. Wide range of sterilization, no harmful residue
2、Application scenario
1、Medical institutions: isolation bed, operating room, waiting room
2、Transportation hub: airport, railway station, bus station
3、Enterprise unit: office area, public area
3、Product parameters
Technical item
Technical Requirement
Appearance design
1. Shell: PC + ABS, stainless steel, easy to wipe, antibacterial
2. Size: 540mm * 580mm * 1740mm
Hardware Parameters
1. Processor: integrated Intel ® J1900 quad core processor 2.0GHz
Chipset: Intel ® Bay trail SOC chipset

2. Autonomous navigation: no less than 3 kinds of sensors (LIDAR / odometer / gyroscope) can be used
Multi-sensor fusion navigation scheme based on
3. Intelligent obstacle avoidance: the robot can avoid obstacles flexibly and avoid obstacles normally under low light conditions
4. Motor torque 8.1nm (high load, low power consumption)
5. The chassis adopts shock absorption suspension system, which can effectively guarantee the stability of chassis operation.
Operating Parameters
1. Movement speed: 0.45m/s (in navigation state)
2. High precision laser positioning, laser measurement accuracy: ± 2cm
3. Steering performance: 360 °, 0 radius turning
4. Regular working hours ≥ 4 hours
5. Be able to move autonomously to achieve autonomous navigation, obstacle avoidance and other functions
6. During the robot\'s task execution, it supports the pause mode, and can continue to execute without ending after resuming
task
7. The robot can control the automatic switch of the electric door through the Internet of things
8. Support the expansion of elevator control scheme, and realize multi floor operation across regions.
9. There is no need to make secondary transformation to the environment, no need to install route and positioning mark device, and the robot is in operation
Autonomous Navigation
10. The robot has the function of automatic recharging, which supports the automatic recharging of low power and can perform tasks circularly
11. Support the automatic detection in the working area, and automatically turn off the ultraviolet lamp irradiation after detecting the personnel.


4、Factory and qualification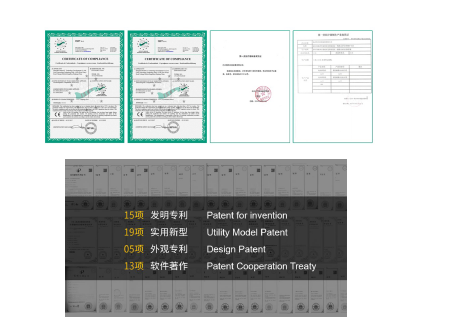 5、Precautions
(precautions)
-Avoid placing the machine in a wet place, and a large amount of water vapor will enter the motor components through the gap.
-When you stop working, please turn off the power of the motor, safety first.
-Do not use in dusty places.
(instructions for regular maintenance)
-Wipe the surface of perpendicularity adjusting part to avoid affecting the accuracy.
-Adjust the verticality adjusting parts regularly to ensure that the tire is in a vertical state.
-Before each start-up, the sundries within the operation range of the machine must be removed with an air gun, the power supply must be connected, the machine must be started, and the operation condition of the machine must be checked.
-Check whether the fastening screws are loose.
-If the machine is not used for a long time, please wipe it clean and put it in a dry and ventilated environment. Do not store it in a place with high temperature and humidity.
--Every season, the motor bearing needs to be replaced with oil to ensure that the
motor runs without resistance.
-Every season, the oil of shock absorption bearing needs to be changed to ensure the smooth running of tire.
6、 After sales service
1. Our company can provide installation, debugging and technical training for all our products.
2. After the installation and commissioning, the warranty period is one year (except for vulnerable parts and artificial damage), with a lifetime warranty.
3. Irregular on-site maintenance, on-site operation and technical training.
4. After sales contact: 0571-89167832.
5. Service content: in case of equipment failure, first communicate by phone. If the problem cannot be solved, our company will rush to the site as soon as possible to solve the problem. After sales service includes not only equipment maintenance, but also technical support. Our technicians can carry out on-site technical training and provide a complete set of solutions. Professional and technical personnel shall follow up the use of user\'s equipment at any time.