• Four times upgrade on cavitation power board promises stable quality
• Four kinds of cavitation frequency (40Khz, 28+40Khz,50Khz,1MHZ) can be offered
• Laser added in the tripolar RF are imported from Japan
• Vacuum helps the energy better reach the deeper fat layer and accelerates the deeper treatment effect
• 2 to 6 cm fat reduction with single treatment from most client's feedback 
1. How does cavitation vacuum rf laser work?
 The ultrasound caviation+vacuum+rf+diode laser salon beauty machine is the newest slimming technology , it combine four technology in one machine, to achieve slimming and tighten skin together!
Ultrasound cavitation process starts with ultrasound waves, which create a bubble in the tissue of the fat cells. The bubble then expands rapidly and compresses, creating a temperature increase and an implosion. With this implosion, the fat cells and cellulite are damaged.
Vacuum will bring the gas and vapour on the between skin and treatment head, so it will give a positive pressure on liquid molecule through the expansion cycle on body , The explosion effects inside and outside the cells will increase the molecular movements .so as to achieve an high energy state .then make the lipocyte dissolving quickly. at the same time, it can enhance the muscle elasticity and improve the cell metabolism .
After cavitation treatment, the skin will is flabby. Now using the Tripolar RF+635nm diode laser to tighten skin. 

RF: We adopt 1-40Mhz adjustable frequency produces heat when the tissue's electrical resistance converts the electric current to thermal energy deeper within the dermis. Initial collagen denaturation within these thermally modified deep tissues causes the immediate tissue contraction. Subsequent neocollagenesis then further tightens the dermal tissue and reduces wrinkles. 
635nm diode laser can heat up the skin to reduce impedance to support the RF penetrate deeper. it produces benign stimulation which can accelerate the collagen and elastic fiber renascence to speed up the cells metabolism.
2. Applications of cavitation vacuum rf laser 
1. Fat reduce, loss weight, Body Slimming
2. Soften hard fat tissue, break up lipocyte
3. Strengthen and tighten skin, Body Shaping
4. Remove Wrinkles: thin line, forehead wrinkle, cheek line, wrinkle around lip, neck line, double chin, skin-smoothing, eyelid-sagging, crows- feet, wrinkles under eye and pouch.
5. Body Shaping: tighten the loose-skin of arm, waist, abdomen, and leg and pregnancy line. 
3. Advantages of cavitation vacuum rf laser  
1. Diode laser to adjunctive therapy
2. Digital frequency control system, energy output evenly and precisely
3. 5.7inch color touch screen, better customer-machine interface.
4. There are 2 systems, one for Ultracavitation and one for RF
5. Non-intrusive treatment without anaesthesia or wounds, easily get rid of the tough hard fat tissue
6. 20 minutes a treatment, no downtime! Zero impact to your job or study
7. No pain, no cut, no side-effects
8. No rebound. Apparent long-last result.
4. Specification cavitation vacuum rf laser
5. Software of cavitation vacuum rf laser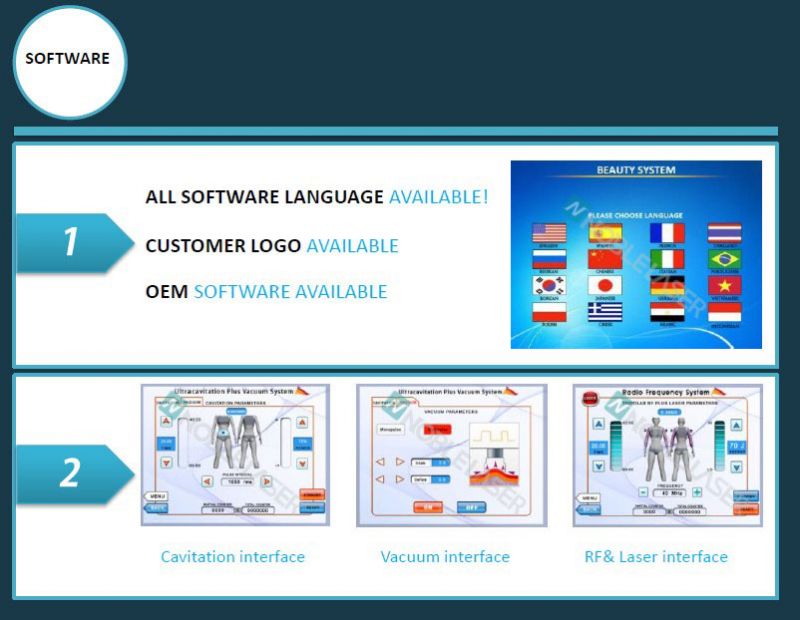 6. Good results cavitation vacuum rf laser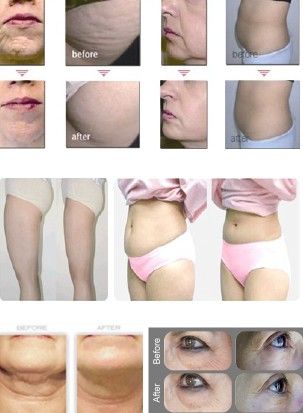 7. Picture show of cavitation vacuum rf laser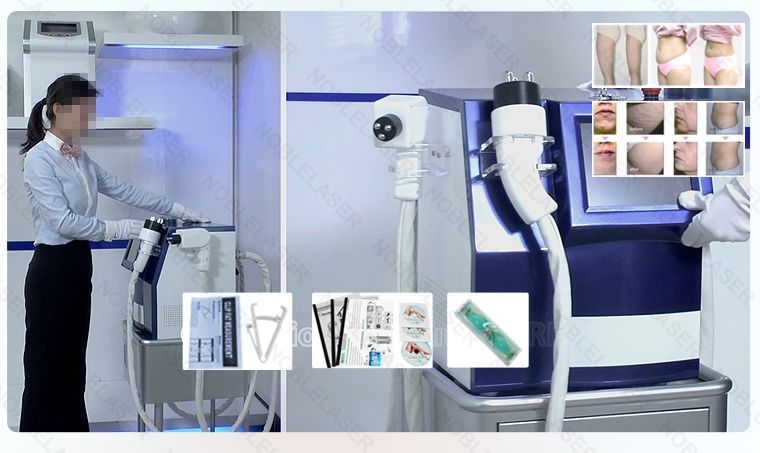 Guarantee: We offer 3 years free warranty,  lifetime maintain,  24 hours calling service.
Service:There is OEM&ODM service for distributor.
Training: After you get the machine,  there is user manual,  maintain manual,  training CD guide you to operate the machine.
For more information, please feel free to contact us!